Canning Aprons
Our vintage canning aprons protect your clothes, whether you are working in the kitchen preparing your favorite meal, or preserving the bounty from your garden. Straps rest comfortably on your shoulders, not on the neck, making for a nice and comfortable fit. The French seams add a professional look to the inside of these darling aprons. All edges are hand rolled and stitched.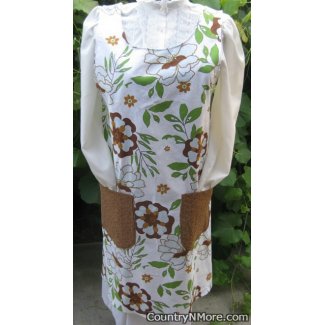 Vintage Retro Flower Canning Apron (Large)
So retro. The vintage canning apron, features large brown and blue flowers, set against a white background. We used a brown calico print for the pockets and straps. The brown tones fit so well with the browns in the main apron.
Apron is preshrunk
Made from 100 percent cotton fabric.
Measurement across bodice is 18 inches.
Straps are 32 inches long
Measurement around entire waistline is 37 inches.
Apron measures 42 inches long.
Apron has two large pockets
French seams.