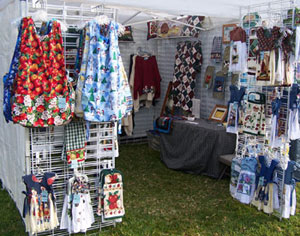 Country N' More
We are an online business which manufactures quality handmade aprons and other fine goods in Southern California. Originally founded in 1996 as Classy Gifts.
In 2004, Classy Gifts was reorganized as Country N' More to better align with our country theme products. In 2002, we expanded into manufacturing cobbler aprons. In 2003, we expanded to manufacturing quality oven door towels and hanging towels. In 2012, we expanded our apron lines to include canning and clothespin style aprons. Our aprons have appeared in movies and theater productions. Country N' More has thousands happy customers throughout the United States and around the world.
About our founder
Sharon Carman has 40 years worth of sewing experience. She learned her craft while growing up in a poor family, watching her mother making all of their clothes.

Sharon learned from her mother that quality and workmanship count and about the importance of taking pride in your work.